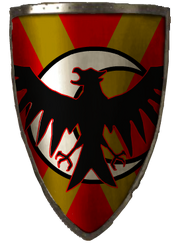 Co-Founder and Administrator; Creator of the Karnasaurs and all things relating to them, as labeled by the Karnasaur category. Master of all things scientific, and one of the greatest procrastinators you'll ever meet.
Complete Lament of the Immortal Colonel
Complete Far and Away
Complete At the Galactic Gala
Add the following to the KMF page:

Finish myths
Wryms of Yetu
Better history
Expand on technology
Notes from Suppy

Add the following to KAF page:

Everything from Suppy

Designations for weapons/vehicles

List og High Generals and Admirals
List of Fleets and Legions in active service
List of legendary/elite/historical Fleets and Legions
Examples of the following:

Superb victories by the KAF
Devestating failures

Expand on historical Karnasaurs and events in the KMF
Post blog on final planning for the next few story arcs for clarity between the major authors
Get a pic of both Etah and a standard Karnasaur
Soften Etah/Expand on weaknesses
Breath life into Karla as per agreement with Suppy
Integrate Asir into stories better
Wrap up Renr storyline
Plan for Kene-related story arcs
Work with Suppy on Mistaken Invasion
Create the following pages:

Verbum Deus
Kene Thes
Asir Owar
KMF Registry of Worlds
List of actively serving vehicles and models in the KAF
Pages on KAF models?

Sort out details for Multiverse crossover
Community content is available under
CC-BY-SA
unless otherwise noted.